The COVID-19 pandemic, which has kept many of us at home the past nine months, has led to historically high stress levels among Americans.
The American Psychological Association (APA) says that, "the COVID-19 pandemic has altered every aspect of American life, from health and work to education and exercise. Over the long term, the negative mental health effects of the coronavirus will be serious and long-lasting."
Stress levels are getting higher the longer the pandemic stretches on, with the APA reporting in November 2020 that "more than 3 in 4 Americans (76 percent) say the coronavirus pandemic is a significant source of stress in their lives. And over the past month, more than a third (37 percent) say the level of stress they feel about the coronavirus pandemic has increased."
As we continue to work from home there is a way to relieve stress by simply exercising. The Mayo Clinic says that, "exercise in almost any form can act as a stress reliever. Being active can boost your feel-good endorphins and distract you from daily worries."
Doing yoga, exercises or working out on exercise equipment at home can have many benefits, including:
Jumpstart your brain's feel-good neurotransmitters, called endorphins.
Reduces negative physical effects of stress
Help you stay calm, clear, and focused the rest of your day
Improve your mood, help you relax and lessen mild depression and anxiety symptoms
No Equipment, No Problem
The good news is that even with no equipment, you can still get in a workout at home.
Try the following:
Yoga from home: Poses such as Seated Forward Bend, Seated Cat and Cow, Seated Chest Expansion, Seated Pigeon, and Seated Spinal Twist can bust stress.
Throwback Exercises: Remember 9th grade gym class? Burpees, pushups, sit-ups, squat jumps, and leg lifts still do the trick and do not require special equipment or a lot of space.
Get moving: If you have stairs at home you have exercise equipment! Simply walking stairs or around your house or apartment at regular intervals will get your blood moving and burn calories.
Up Your Workout Game: Elliptical vs Treadmill Machines
If you need a more professional workout, then you might benefit from having commercial grade equipment at home such as an elliptical or treadmill machine. When you go to your health club you can choose from both but if you had to pick one for home, ellipticals and treadmills provide different workouts.
For starters, ellipticals are a low-impact workout vs. the high-impact workout of a treadmill. If you are recovering from an injury or are older and want less stress on your bones, joints and ligaments, then an elliptical is the right choice. Many people find that they can get a longer workout on an elliptical and burn more calories.
If, however, you want to keep in top shape for future events such as 5Ks in a post-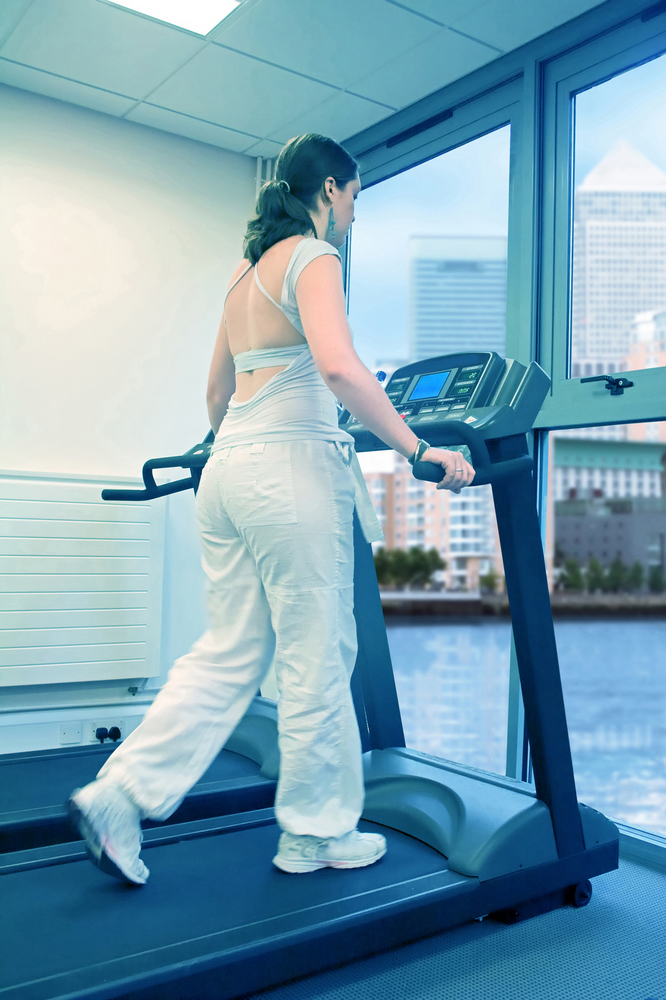 pandemic world then a treadmill is the right machine for you. Treadmills will help athletes keep in shape when they cannot play their sport and you can burn a lot of calories. Of course, you always have the option to walk on your treadmill vs. running, which is great for those that cannot get out for a walk in inclement weather.
Bike It! Three Types to Choose From
For those that enjoy a workout on a bike without the dangers of the open road, you have three main types to choose from at home: recumbent, spin or upright.
Each of these bikes has their own advantages:
Recumbent Bike: Perfect for low-impact workouts with a reclined seat and backrest. This is the bike for those with pain or aching knees and other joints.
Spin Bike: With a weighted flywheel these bikes will make you feel like you are on the street. These bikes are best for those that want an intense workout.
Upright Bike: Resistance with these bikes is provided through electromagnetic induction. Many have preprogrammed workouts that let you choose a resistance level.
In southeast Texas, including Austin, Houston, San Antonio, College State and Beaumont, you can rent or purchase certified pre-owned exercise equipment from Exer-Tech. Our expert staff can help you choose the right exercise equipment to relieve stress at home.